Scanning
Shipping
Payment
Video
Discount
Is it really that good?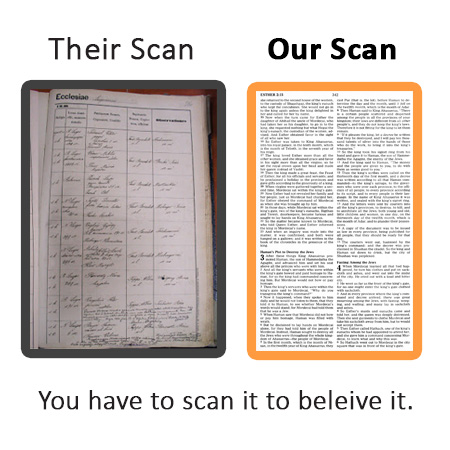 How do you compare against others ?
We come from a professional scanning background. While other vendors will market a very small price per page, and then charge you large fees for other so called options, we will offer the entire package. Things like deskew, background cleaning, unsharp masking are mandatory when trying to obtain a high quality result. They don't do that. Just request some scanning samples from us before you order, and you'll see the difference.
Will my books be affected during scanning ?

No, they won't. Choosing the non-destructive option (enabled by default everytime you order) means that the books will only be scanned with professional book scanners, which don't hurt the book. Also, our scanners use cold light, which is less dangerous to books than ambient light is.
Do you also scan very old books and manuscripts ?
Yes we do. Our equipments were built just for this type of jobs. We highly encourage you to send this kind of material to us.
How do you scan the books?

We take pride in using the best technology for each type of document in part. As you may know, books can be scanned in 2 ways:
Non-Destructive – The book remains INTACT. It's scanned on special book scanners, designed with book cradles to support the book while scanning, it's not opened wide, just a little.
Destructive – It's 40% cheaper. We cut the binding of the book and scan it with a high speed ADF scanner.
I need more information from Overnight-Scanning, what should I do ?
Contact us for any request and we will respond as quickly as possible.
From which country do you accept orders?
Currently we accept orders from most of the EU Member States, along with Norway and Switzerland:
Austria
Belgium
Bulgaria
Croatia
Cyprus
Czech Republic
Denmark
Estonia
Finland

France
Germany
Greece
Ireland
Italy
Latvia
Lithuania
Luxembourg
Malta
Netherlands

Norway
Poland
Portugal
Slovakia
Slovenia
Spain
Sweden
Switzerland
United Kingdom
Turkey
Where do I send the books?
Here is our address:

What are the shipping options?
To send your books:
Royal Mail – 8£ for a package of maximum 1Kg by Airmail (Destination: Romania)
Atlassib UK – 20 euro for a package of maximum 10kg. Available in London, Birmingham, Glasgow, Liverpool, Manchester.
Atlassib Europe – Available in Germany, France, Belgium, Netherlands, Spain, Italy, Austria, Portugal, Greece
I'll ship them myself – You send the package to us, by whatever means you would like. After you ordered, we provide you with the address where to ship the package.
To return your package:
DPD Express Return – We send your package through DPD and it arrives really quick, in just 2-3 business days. Recommended when you're in a hurry.
Budget Return – We send your package through the National Post and it arrives in approximately 10 business days. Recommended if you want to save money.
REMEMBER: As soon as we scanned the books we send you the files. It does not matter which return shipping you've chosen, the files are uploaded immediately.
Save 24% if you order as a company!
If you order as a company, we will invoice the job without VAT. That way you don't have to pay VAT and neither do we. You pay only the price excluding VAT. You just have to fill in a few details (VAT Code, Company Name and Address). Remember, the company just needs to have a registered VAT Code.
How can I Pay?
We accept payments through 3 methods:
PayPal Account – Pay directly using your PayPal account. Simple and fast.
Credit Card – Visa, Mastercard, Diners Club, American Express – Pay using your credit card, processed by PayPal in a safe and secure transaction.
Wire Transfer – Send money by Bank Transfer. When you have finished your order, you will receive a proforma document(With the account number and all the details). Use that to perform the bank transfer at your local bank.
After you order, you will be directed to the payment platform. After you've succesfully paid, we get to work.
We've prepared a little video
The scanner that you see in the video is our actual book scanner that we use to scan your books. As you can see, the books are scanned using suction technology. The scanner has not harmed a single page in it's history.
Get a discount


Do you have a blog, website or any place where you can post a review of our services? We are always looking to have a better reach of Europe and get to all the customers that need us.
You can get a big discount of up to 30% of your order if you can promote or review our services online. Please contact us for more information at contact@overnight-scanning.eu before you order, telling us what you can post and where and we'll give you a big discount for it.